Skip to content
Digital Marketing Foundation Course
Take your first step into Digital Marketing and understand the fundamental concept of Digital Marketing. We conduct  Digital Marketing Foundation Course in Greater Noida. 
Introduction to Digital Marketing Foundation Course :
Digital marketing is an important term for the marketing of services and products using online technologies. How digital marketing has developed since the 2000s and 2020s? It has changed the way brands and businesses utilize technology and digital marketing for their marketing. Digital marketing campaigns are becoming more relevant on any digital platform are increasingly incorporated into marketing plans because people use digital devices instead of going to the physical market.
Digital Marketing Foundation Course Description:
Learn how to promote your business effectively online and develop a targeted online marketing strategy that involves potential customers throughout the digital platform. In this course, you will learn digital marketing techniques in simple terms, demonstrating how to build a successful online marketing campaign for all digital channels: search, video, social, email, and display.
Every Specialization includes a hands-on project. You will need to successfully finish the project to complete the Specialization and earn your certificate. If the Specialization includes a separate course for the hands-on project, you will need to finish each of the other courses before you can start it.
When you finish all courses and complete the hands-on project, you will get a Certificate that you can share with prospective employers and your professional network.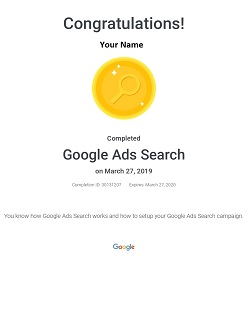 Duration : 1 Month (2hrs/day)